Heyworth IGA
Recipes
http://heyworth.iga.com/Recipes/Detail/4134/Chocolate_Chip_Pumpkin_Bread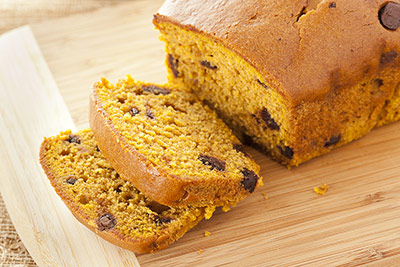 Chocolate Chip Pumpkin Bread
Yield: 2 loaves
Preparation Time: 10 min: Cook: 1 hour
3
cups
flour

2
teaspoons
cinnamon

1
teaspoon
baking soda

1/2
teaspoon
salt

4
eggs

2
cups
granulated sugar

2
cups
canned solid pack pumpkin

1 1/4
cups
vegetable oil

1 1/2
cups
chocolate chips
Directions:
Preheat oven to 350 degrees F

Coat two 8x4-inch loaf pans with nonstick cooking spray.

In a large bowl, combine flour, cinnamon, baking soda and salt.

In a medium bowl, beat the eggs, sugar, pumpkin and oil.

Stir into dry ingredients just until moistened; fold in chocolate chips.

Pour into prepared loaf pans.

Bake for 60 to 70 minutes or until a toothpick inserted in center comes out clean. Cool for 10 minutes before removing from pans to wire racks.

Please note that some ingredients and brands may not be available in every store.
Heyworth IGA
Recipes
http://heyworth.iga.com/Recipes/Detail/4134/Chocolate_Chip_Pumpkin_Bread
.